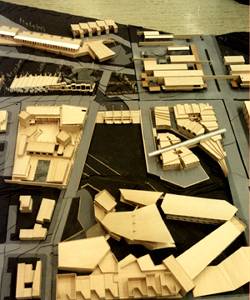 COMMERCIAL CENTER MASTER PLAN
Scottsdale, Arizona
A Charette with Students from Arizona State University

The project, for 120 acres along the Shea Area Corridor, was proposed in order to establish planning guidelines for future growth and to ensure for a civically conscious and harmonic built environment in relation to the natural landscape. The General Plan designated this area as a future neighborhood commercial center with adjacent multi-family dwellings. By developing a neighborhood plan comprised of all the individual undeveloped parcels, the property's principal amenity, the Sonoran landscape with its vegetation, vista, geology, landforms, and climate could be optimally combined with each parcel's development potential.

Our programming strategy was to combine traditional 'Town Center' uses with the amenities of a 'Resort'. The Master Plan includes a neighborhood center which incorporates civic uses (library, performing arts center), institutional uses (Mayo Clinic), commercial uses (office), retail uses (shopping, grocery), residential uses of varying densities accommodating more than 700 single family houses, townhouses, and garden apartments, in addition to 30 acres zoned as a resort area accommodating 210-690 hotel rooms. In order to take full advantage of the property's natural amenities and their zoned commercial values, we developed a Master Plan which jointly incorporated each parcels optimal user needs along with optimizing each parcels relationship to the greater landscape:
1. The Environmentally Sensitive Land Ordinance open space requirements couldbe transferred between parcels and shared jointly.
2. Density transfers could occur between adjacent parcels.
3. A neighborhood commercial and retail center would appropriately address its adjacent uses and densities, thereby becoming a civic amenity.
4. Clustering of densities would allow for the allocation of a larger percentage of undisturbed open desert.
5. Reinforce the identity of the landscape through open spaces, spatially defining them, as places of recreation, pedestrian access, and undisturbed view corridors.
6. Site drainage patterns, with their premiums, could be successfully highlighted as pedestrian trails and through ways connecting uses.